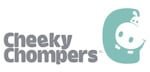 The Challenge: Inefficient PPC Campaigns and Outdated Web Design
Cheeky Chompers, a leading innovator in teething products, found themselves at a crossroads. Their PPC campaigns on platforms such as Facebook, Instagram, Google, and YouTube were inefficient, leading to high costs and low ROI.
The outdated design of their website was hindering user experience and conversion rates, and there was a lack of integration between the website and social media advertising.
These challenges were causing disjointed marketing efforts, difficulty in reaching the target audience of young parents, and inconsistent brand messaging across platforms.
The Strategy: Redesigning the Web Experience and Revitalising PPC Campaigns
Recognising these challenges, we took a two-pronged approach. First, the redesign of the Cheeky Chompers website on Shopify.
This new design enhanced user experience and aligned perfectly with the brand's identity, creating a welcoming and intuitive platform for customers.
Next, we turned our attention to the PPC campaigns. We created targeted and visually engaging campaigns on Facebook and Instagram, specifically designed to resonate with young parents.
Google Ads were utilised to capture search intent for teething solutions, driving qualified traffic to the new website. YouTube advertising was leveraged with informative videos, showcasing the unique benefits of Cheeky Chompers' products.
The integration of these PPC campaigns with the newly designed website ensured a seamless customer journey from ad click to purchase.
Every element was carefully crafted to work in harmony, creating a cohesive and enjoyable customer experience.
The Solution: Doubling Conversions through Innovative Digital Marketing Strategies
The combination of PPC excellence and web design transformation led to a significant reduction in PPC costs across all platforms whilst increasing ROI and customer acquisition.
The conversion rates on the newly designed Shopify website doubled, leading to increased sales and customer satisfaction.
Engagement with the target audience was enhanced through tailored advertising, and brand consistency and trust were improved through unified messaging and design.
Conclusion: Cheeky Chompers Digital Triumph - A Testament to Targeted Advertising and Exceptional Web Design
Our collaboration with Cheeky Chompers showcases the power of specialised PPC strategies and innovative web design.
By understanding their unique challenges and leveraging the strengths of platforms like Facebook, Instagram, Google, YouTube, and Shopify, we were able to create a cohesive and effective digital marketing solution.
Check out more case studies ...
Cheeky Chompers
A new website & PPC strategy to help new parents with their teething tots!
Edinburgh Corn Exchange Weddings
How a high converting landing page & Facebook PPC marketing was love at first sight for The Edinburgh Corn Exchange.
Wazookah
How a Shopify web design rebuild refreshed the look and feel of a premium hookah brand.
Intelligent Point of Sale
How an effective search engine optimisation service propelled this company to the top of Google.
Bonk & Co
On page & off page SEO were all it took to get these wood burning stoves in front of eager buyers.
LazenbyPT
How a high converting new WordPress website as well as the latest SEO techniques helped this personal trainer to the top.
Albany Blinds
How local pay per click marketing allowed this company to dominate their geographic market.
Get in touch today to book your free consultation!
Book a call with me today to see how I can help you. Let's make your digital journey a successful one.